SMMA Hosts RWU Design Critique
SMMA recently hosted a comprehensive studio design critique for graduate students from Roger Williams University. Essentially an interactive conversation that aims to provide constructive, personalized criticism from a range of experts in the design community, the critique marks a significant milestone in the students' academic journey toward a Master of Architecture degree. SMMA volunteered its Cambridge office as a venue for the event, capitalizing on the opportunity to support aspiring architects and encourage the next generation of design talent.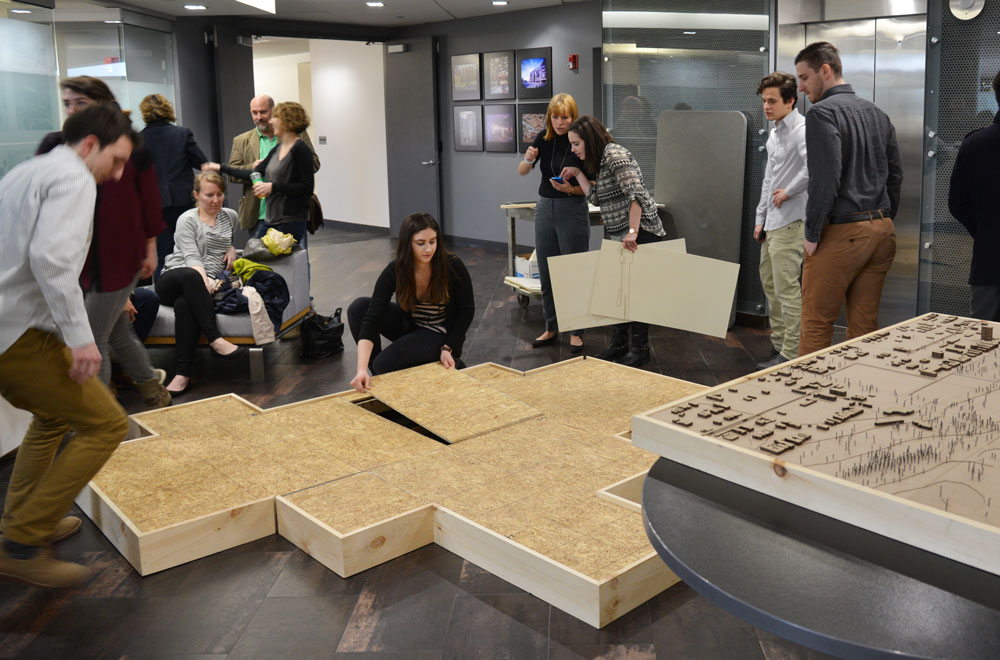 The students "occupied" the firm's space, transforming nearly every wall into a large-scale exhibit of their work. Approximately 28 design professionals, from SMMA and the Greater Boston Area, circulated through in groups of two and three, asking students detailed questions and offering personalized feedback in 30-minute sessions. From transparent design to cultural inclusions, the groups identified design dilemmas, then debated them. These lively conversations, held in the spirit of collaboration, encouraged students to defend their design decisions and challenged them to consider a variety of perspectives.
"I was particularly impressed with the way the students engaged with our feedback," said Michael Kyes, SMMA's Architecture Team Leader, who, along with Steve Shetler, facilitated the firm's involvement with the critique. "They didn't simply smile and wave, they argued intelligently about their approach and took criticism with an open mind."
Student work was divided among three site programs – two in Switzerland and one in Chicago – and included approaches for building envelope, structure, mechanical systems, and environment. According to instructor Roberto Viola Ochoa, the level of information and material the students had to manage was similar to that of a real practice. Each site presented students with distinct difficulties in urban planning, forcing them to consider how a temporary Syrian refugee resettlement center might encourage cultural integration; how Swiss heritage could be celebrated in a new Vitra showroom, museum, and cafe; and how Chicago's South Side might be revitalized by the new Barack Obama Presidential Center, comprising a library and museum.
This marked the first year in the critique's nearly decade-long existence that SMMA served as host. The firm maintains a number of connections with the University, however, in the form of its many employees who have graduated from the institution over the years, and looks forward to future opportunities to connect with academia in fulfilling its mission to engage and inspire.